OUR MATERIALS:
The goods on the inside

ORGANIC MATERIALS
Bamboo / Spandex is silky smooth and a sustainable solution over typical Cotton or polyester/spandex materials.

locally sourced
All materials are sourced locally in the San Francisco Bay Area. We work with suppliers who are working to remain as sustainable and eco-conscious as possible.

simple care
Simply machine wash cold and tumble dry low. Bamboo is great with wear and tear and will take care of your derriere!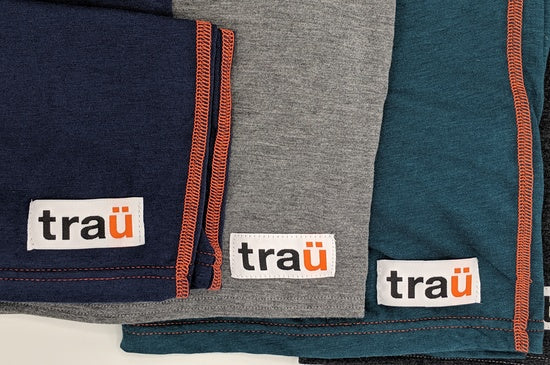 ALL NATURAL MATERIALS
When you're making apparel, it's all about the materials. We searched for years to find the perfect materials for your workout, and we believe we've found the best. Built from Bamboo with just the right amount of stretch, Traü fit you just right, are naturally odor resistant and will last wash after wash.
Our customers agree:

"Unbelievably soft. Durable. By far the most comfortable underwear I have ever had. And I've tried a LOT of different brands. These are amazing, you don't even notice them -- they fit and feel so good, with a perfect amount of support, that they disappear." - Dan O., Leavenworth, WA

"These are without a doubt the most comfortable underwear I own. Compared to any other brands, Lulu, UA, you name it these fit and feel the best!!" - Steven S., Moraga, CA